2018 Updates

Here we are in April and getting in the countdown for our 42nd Annual Blessing of the Bikes at West Dennis Beach on May 6th! Last year we had nearly 1,000 bikes and an estimated 1,500 participants in attendance. Let's see if we can break the 1,000 bike mark this year! Please help spread the word and we hope to see you there. Look for further updates here....
QUESTIONS?

Doug: 508-400-0663
Mike: 508-759-7734
Email: ma6@blueknights.org

Directions

Route 6 East to Exit 9A, Route 134 (or for a more scenic ride, Route 6A East to Route 134 East Dennis);
Bear right onto Route 134 South & continue 2 miles to the Route 28 traffic lights;

Cross Route 28 onto Swan River Road & continue 1 mile until the end;

Take right onto Lower County Road & continue about 1/4 mile;

Take left onto Lighthouse Road, which turns into Davis Beach Road. Beach gate entrance is on the other side of the small rotary circle.

Blessing of the Bikes
MA VI had its' first Blessing of the Bikes back in 1976, the same year our Chapter was Chartered, and have held the event annually ever since. For years it was held in Falmouth, then in 2001 we moved it to Otis Air Force Base (Camp Edwards) in order to have more space. Though that location worked out well for us, the terrorist actions of September 11, 2001 drastically changed security measures at the Base and we had to once again look for a new location. In 2002 we moved to West Dennis Beach on the East side of Cape Cod. This beautiful site, looking out into the Atlantic Ocean, has worked out very well for the event, with plenty of room to handle as many bikes that may show up, as well as vendors.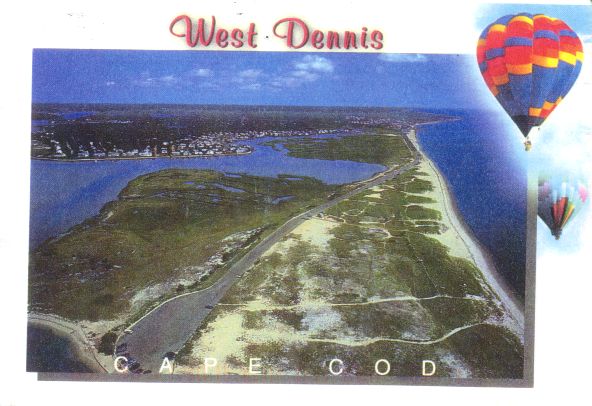 * Click on the picture for a Google Map of the area *

May 6, 2018 ~ $5 per Bike ~ Rain or Shine!
We're the "Original" Cape Cod & Islands Blessing, always held the first Sunday in May - That makes it REAL easy to plan for our event from year to year. Our past charitable contributions include the American Cancer Society, Blue Knights Special Fund (for Officers who have motorcycle accidents),
Bourne Police Officer Jared MacDonald
(shot in the line of duty February 5, 2015), Cape Cod Community College Scholarship & Cape Cod Times Needy Fund.
* Click on the flier for a PDF version (right mouse click on it for Save options) *


Pictures from our May 3, 2015 Blessing of the Bikes
* Click on pictures to see larger image - If new tab/window doesn't open, click browser "Back" *
| | |
| --- | --- |
| Chapter President Mike Gratis and one of the PIXY 103 DJs. PIXY was advertising the event and had good tunes cranking the whole time. | The view from the top of the Blessing truck, just as it started to move down the line. |
| Looking back, was the Blessing truck makes it way down the length of the parking lot. | This young lady is proudly standing next to her bike as she is blessed. |
| These two ladies are all smiles as they are blessed. | This young man was really enjoying himself. Am pretty sure he's been coming since he was a little tyke. |
| Even those who didn't ride in on bikes came to see the event and enjoy the day. | It looks like members Ron DeMello & Den Cahill didn't lose track of their keys this year.... |
| The future of motorcycling sits in that stroller. Some of the young adults now attending out Blessing were in a similar stroller 20 years ago. And, being our 40th year, some of the older adults who came in strollers, are now pushing strollers with their own kids. | Bikes all leave the beach by riding under Old Glory, as a fireman stands high above and roots them on. Another successful Blessing! |
| This shot was taken from the top of the fire truck ladder (see the flag next to me?!), less than an hour before the actual Blessing began. Quite a sight! | Another shot was taken from the top of the fire truck ladder, this one a close-up of the crowd, less than an hour before the actual Blessing began. |
| Thanks to all of those who attended & supported us, and we very much look forward to seeing you in 2018! | Don't forget: The Blessing is always the first Sunday in May, rain or shine; so next year it will be on May 6th. |
Other Blessing Links
2006 Blessing & Big Brothers Poker Run YouTube Video

2009 Blessing - YouTube Video by satajet883

2009 Blessing - YouTube Video by secretproductionz

2010 Blessing - Boston Herald Article

2010 Blessing - Cape Cod Times Article

2010 Blessing - YouTube Video 1 by rebesprout
2010 Blessing - YouTube Video 2 by rebesprout

2011 Blessing - YouTube Video by satajet883

2011 Blessing - YouTube Video 1 by secretproductionz

2011 Blessing - YouTube Video 2 by secretproductionz

2011 Blessing - YouTube Video 3 by secretproductionz

2012 Blessing - YouTube Video by Chatham Kid

2012 Blessing - YouTube Video by satajet883

2013 Blessing - Cape Cod Times YouTube Video

2013 Blessing - Cape Cod Times Photo Gallery

2013 Blessing - Kevin P. Landry Law Offices Article

2013 Blessing - YouTube Video by satajet883
2014 Blessing - Cape Cod Times Photo Gallery

2015 Blessing - CapeCod.com Photo Gallery